With a single urine sample, Ethos Laboratories provides a more objective view of your patient's chronic pain
Ethos Laboratories offers a comprehensive menu of urine compliance testing. Urine is the most common compliance specimen type and offers unique advantages over other types of compliance testing.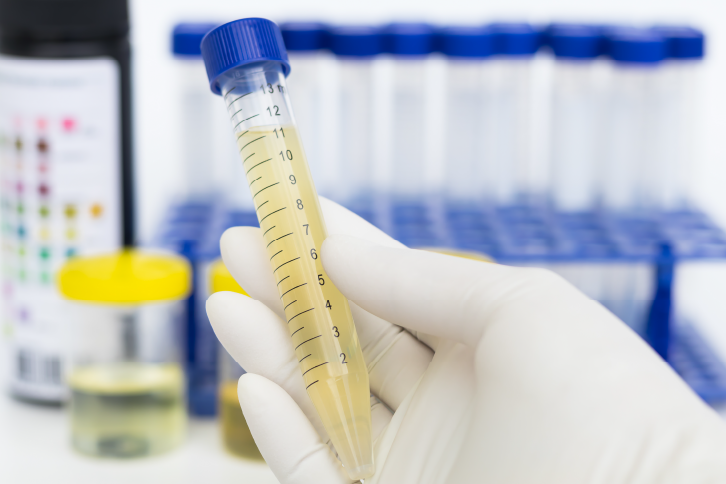 • Efficient toxicology testing helps assess patient compliance with prescribed medications and potential use of other drugs
• Compliance testing services include urine toxicology reports with historical results, concurrent opioid–benzodiazepine and illicit detail reports, and an informational clinic summary report providing insight into compliance trends within your clinic's patient population

TECHNOLOGY: Urine and Oral Fluid Toxicology Testing
Urine and Oral Fluid Samples
Urine and oral fluid samples are received at Ethos Laboratories the next business day after they are shipped.
LIS: Sample Log and Data Analysis Laboratory Information System (LIS)
Ethos uses a custom Laboratory Information System that automates much of the laboratory process from patient intake to custom report creation. The LIS software optimizes workflow, quality control, and data management by linking all of the equipment and processes together.
EIA: Qualitative Testing (screen) Enzyme Immunoassay (EIA)
The EIA analyzer provides a screening test for certain drugs that will produce a qualitative result of Negative or Reactive. All Reactive screening tests will automatically order the corresponding confirmation tests. A Reactive screening test should never be considered a final result without a Positive confirmation test.
SPE: Sample Cleaning Solid Phase Extraction (SPE)
Solid Phase Extraction is a sample preparation technique used to clean samples by removing interfering substances that may be present prior to analysis. This process cleans the samples and allows the subsequent analysis to be far more sensitive and accurate than other methods of sample preparation.
While many toxicology labs still use the "Dilute and Shoot Method" in order to save time, the absence of an extraction process produces a "dirty sample" that still contains potential interfering substances. Ethos Laboratories uses a robust and reliable SPE method to prepare all samples for confirmation, thus increasing the confidence and quality of our testing practices.
LC/MS/MS: Quantitative Testing (confirmation) Liquid Chromatography/Mass Spectrometry (LC/MS/MS)
The LC/MS/MS provides a confirmation test that will produce a quantitative result of Negative or Positive. All Positive results include an exact quantitation value to identify exactly which drug and exactly how much is detected.
Unlike gas chromatography, which is unsuitable for nonvolatile and thermally fragile molecules, liquid chromatography can safely separate a very wide range of organic compounds, from small-molecule drug metabolites to peptides and proteins. One advantage of liquid chromatography is the samples are not subjected to injection through a heated injection port. This advantage allows for the detection of target compounds that are typically labor intensive and tedious for GC/MS analyzers, if even possible. Ethos Laboratories uses liquid chromatography to confirm all sample results.
Report Summary: Ethos Snapshot™ Specialized Reports
Ethos Laboratories has developed the Ethos Snapshot™ from healthcare provider feedback. The Ethos Snapshot™ provides the healthcare provider with a clear and concise summary of the test results based on the information submitted in an easy to read format.
Over 95% of urine and oral fluid toxicology samples are processed and released within 1 day of receipt.